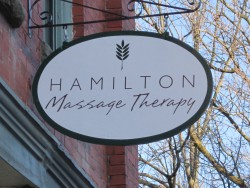 Hamilton Massage Therapy - established in 2009 - is owned and operated by Jackie Sehn.
Jackie is an experienced therapist and a 2003 graduate of the Onondaga School of Therapeutic Massage in Syracuse, New York.

We are located in the historic Roth Building in downtown Hamilton, New York, directly across from the Colgate Inn and just minutes from Colgate University.
We will be relocating our business in January 2023. Our plan is to be settled completely before the end of January. We are moving less than a mile down the road on the main street coming into Hamilton. The physical address is 2307 Rt. 12B, Hamilton, NY 13346. We will be directly across the street from the Hamilton Animal Hospital and in between Hotel One75 (former Wendt University Inn) and Vantine's Studio.
We will have a parking lot. Our business is on the ground floor so you will not have stairs to climb.
Float Therapy Coming to Our New Location!!
Massage, Chiropractic & Nutrition Services
We offer appointments 7 days a week by appointment only.
You can schedule online at www.schedulicity.com/scheduling/HMTXH9 or you can call/text 315-725-8962.